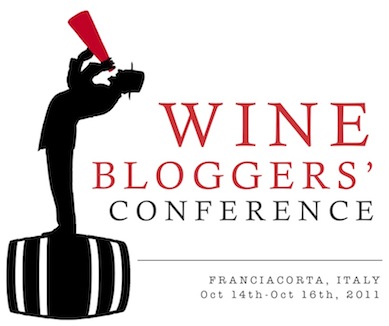 I'm absulutely thrilled to say, that I will finally make it to my very first wine bloggers conference. Somehow I always had a little conflict with the dates… And this, year, as Brescia is only a 5 hours car drive from my little home village, I gambled if I can make it… as it is in the middle of our vintage.
So here is my Intro Video unfortunately not telling much about who I am… but have a look for yourself 😉
So what is the European Wine Bloggers all about? For me personally it is a very big get together of people loving wine and sharing their passion of communication about wine. At the same time it is also a great possiblility for a wine region to showcase their wines, the the people and their philosophies behind the wines.
For more detailed information please have a look at the official website: winebloggersconference.org/europe/
What deserves the great  respect is the enormous effort from the main organisers Gabriella & Ryan Opaz and Robert McIntosch.
In Germany Thomas Lippert from winzerblog who has attended all European Wine Bloggers Conferences so far is also the German Language Ambassador.
As I'm still trapped in a little work here in the winery, I do eagerly follow what's going on especially in the EWBC2011 Facebook Group . At the moment people are arriving and getting ready for the BYOB Dinner. I also follow the #ewbc timeline on twitter.
What I like about social media and interacting with these wonderful people are the ideas they like to share and how the internet lets you connect things together.
So far there have been some pre EWBC posts already blogged:
Ricardo Bernado with O que é o #EWBC ? I like his foto showing what is needed to attend.
Magnus Reuterdahl will hopefully be showing this swedish wine at the BYOB dinner.
Magnus Ericsson mentions the EWBC in his post… BTW Cool Videos… and here you can find his EWBC Intro Video
André Ribeirinho one of the Masterminds behind Adegga.com (which I sometimes translate into german) is also heading to Franciacorta.
Jakub Jurkiewicz also posts about the EWBC. Sorry I don't understand it…
Joe Becerra from the Napa Valley Wine Blog also informs about the EWBC and the lovely Syrahs he will bring along for the BYOB dinner.
Delphine Veissiere writes an interesting article about the wine blogger loneliness. A great thing to think about. Server statistics is one thing but the comments confirn yourself as a Blogger.
Caroline Henry writes in her  Count down to #EWBC in Brescia Post about what she has gained at last years EWBC, how she felt a little lost afterwards and how she then increased exchanges again.
Aleksi Mehtonen writes about his plan how to experience 9 days of pure fun and wine, including some tasty foods on the side.
Lucia Barzanò also writes a short informative post about the Conference. It will be great to meet the producers and enologists and learn about aspects of the local wine production
Elisabetta Tosi writes a wonderful guideline to the conference…
Mariëlla Beukers also writes about her preparations for the conference.
Gloria Chang also writes an pre conference article  in traditional chinese. This is really international.