Liebe Besucher von Bottleplot.com!
Unterhalb dieser Videos habe ich Links auf die Ernteberichtvideos vom 11. und vom 20. Oktober gesetzt. Teil 2 meines Kellervideos können Sie hier ansehen. Alle Herbst-Videos auch über www.johner.de direkt aufgerufen werden. Dort können Sie auch übrigens ganz einfach auch private Kommentare abgeben, die nicht veröffentlicht werden. Sofern diese eine Email Adresse enthält, werde ich Sie auch gerne beantworten. So ganz nach dem Motto wie "Ask Marlene", bedeutet es hier "Ask Patrick"!
Viel Spaß beim Stöbern und Herzliche Grüße
Patrick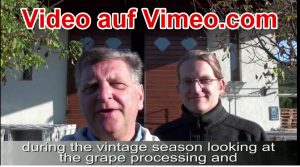 The Cellar at Harvest. from Patrick Johner on Vimeo.
For New Zealand Viewers with problems watching the Vimeo hostet Version…
A further Version hostet at Youtube. (click here) and see the HD Youtube Version

Ernteberichtvideo vom 11. Oktober 2008.
Ernteberichtvideo vom 20. Oktober 2008.
Vielen Dank für die sehr sehr wenigen Kommentare, die ich erhalten habe. Unter anderem erhielt ich schöne Grüße aus der Pfalz mit der Bitte etwas über die Arbeit und Vinification im Keller zu berichten. Über die Weinlese hinweg wurde also immer wieder die Kamera gezückt und bei betimmten Arbeiten gefilmt. Hier nun Teil 1 über unsere Arbeit im Keller.
Zuerst werden die Spätburgunder Trauben abgeladen und mit einer Abbeermaschine die Beeren von den Rappen (Stielen) entfernt. Dieses Jahr brauchten wir keinen Sortiertisch, da die Erntehelfer im Weinberg eine sehr gute Vorsortierung durchgeführt hatten. Deswegen wird man diese Szene erst im Film über die Ernte bei Johner Estate in Neuseeland sehen.
Abends werden die Pinot Noir Trauben in die Gärtanks gekippt und die Gärung eingeleitet.
Ein paar Tage später versuchen wir den Maischekuchen herunterzudrücken um die Beerenhäute, die die Farbstoffe und Tannine enthalten, mit dem Jungwein zu vermischen… Da nehmen wir dann doch lieber eine maschinelle Hilfe.Ansonsten gibt es einen kleinen Kontrollgang und ein paar Jungweine werden auch noch verkostet.Die beste Szene kommt allerdings ganz zum Schluss, mit der Erkenntnis, dass Gärgase ganz schön beisend sein können.
Many thanks for the very very little amount of comments I have received so far. And Greetings back to the Pfalz to someone, who had whised to see our work and vinification process in the cellar during harvest. So I tried to be prepared whenever there was an occasion to film the next new step.
So here is Part 1 of the Work in the cellar. I also included subtitles in English… a good way to learn German English.
It starts of with our Pinot Noir grapes, being unloaded and then tipped into the detemming machine.
Later that day the grapes are tipped into the red wine fermentation tanks. After the fermentation has started, we need to press down the swimming skins containing the color and the tannins. As this is too hard work, we use some helpful machinery. A pneumatic plunger.So then we also have a walk through the cellar checking some temperatures and tasting some wine.The best scene is right at the end when we discover that fermentation gases are …