So here is part two of my London International Wine Fair 2009 Report…
Yes, I did fly back home on Tuesday and came back on Thursday.
So that morning, first of all I finally found Dan Coward @bibendumwine. It was great to hear, that they give him so much time to experiment and dive into Social Media. I also discussed the aspect of a Corporate Twitterer. As he is twittering for a company, that doesn't belong him, the part of branding his personality could be missing. But I must admit, so far I have encountered more personal Twitter Accounts than Corporate Twitter Accounts. I also asked him, where I could find Robert McIntosch @thirstforwine…. And wow, I didn't know he was representing a Spanish estate at the Bibendum Stand… and was always in view from our Stand.
Now as I didn't have that many visitors, I went around and tasted the odd Wine from New Zealand. And I also tasted some Decanter Medal Winners, that were seeking for U.K. representation. Funny how some "special Aromatics" are considered worthy for a medal… I just don't like too much Pee in a Sauvignon Blanc or a Rubbery Reduction in a screwcapped Pinot Gris…
Now as I had missed the Kilikanoon Wines on Tuesday… I had to go there and Wow… my absolutely greatest experience at the Fair…
Claire Valley Oracle Shiraz 2006
McLaren Vale M Shiraz 2006
Claire Valley Attunga 1865 Shiraz 2006
but wait, Nathan even had a greater Stunner with him…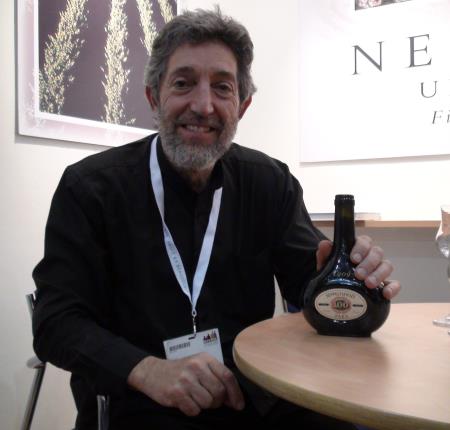 Seppeltsfield 1909 Tawny Port 100 PARA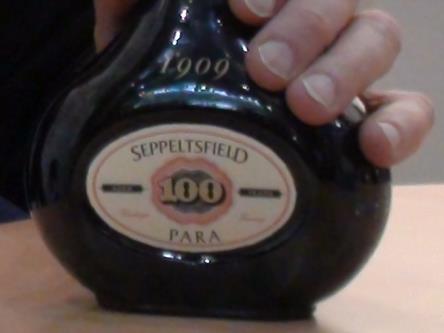 A Wine stored in oak barrels for 100 years and bottled 2009!
My Tasting Note: Great intense fruit reminding of Fruit bread. Intense cloves and muscat. Dark Chocolat Gravy Mocca. A great acidity and an infinitiv finish.
What a great experience!
From time to time I also visited @RyanOpaz and @Andrerib and had a little chat… It was hard work talking to them. So much distraction… they always wanted to come and taste my wines at my stand… but they never did…
Oh well on the other hand I had a great talk with Andre about Adegga, how it is built, I got some hints about MYSQL Databasing, and I was absolutely thrilled of the depth and the knowledge behind Adegga.
Later that day, we all sat together at the Bibendum stand and tasted the odd wine… Finally my opportunity to get some comments about my wine from Ryan Andrew and Denise… that was hard work….
It is a pity, that Thomas Lippert wasn't there. He had sent some wine to the Wine and Foodblogger's evening and they all know him from the EWBC and his Video where he shows his realm… Somehow he seems to be the most famous German Wineblogger… They also loved his wine.
So the London Wine Fair in Times of Recession and poor Currency proved to be a place to meet great people and talk about wine.