I flew in Tuesday morning from Basel to London City Airport. Then just had to walk from the airport to the Excel Fairground. It only takes about 15 minutes. This year London seems almost freezing cold to me… When I caught first sight of the Exhibition Halls (remember my Video?) I was shocked… Where did that parking space before the fair go? One great big construction site… Excel is expanding!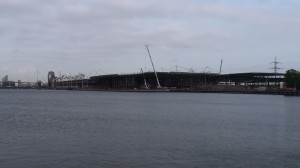 Good thing I met Michael and Kate who gave me a lift around the building site to the other entrance and got my Exhibition Pass. Then finally arriving at the stand, I was stunned. Wow, a new Stand in the Corporate colors of the ABS Logo. Nice and open and looking a bit more spacious.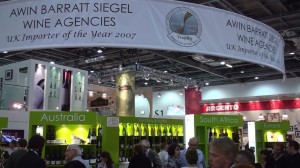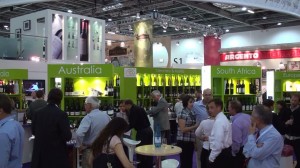 No more ceiling pushing down the heat of those ridiculous Halogen Lamps. Hello England ever heard of LED substitutes before? The Wines will thank you!
As it was still early in the morning I thought I'd go around and say hello to some Twitter Followers that had stands at the fair. So I walked off and found Nathan Waks @kilikanoon, who was so surprised, that a Twitter contact actually turned up, and had a little chat about Twitter. Then unfortunately he had someone occupying him, so I couldn't taste some of the wines… I'll do it tomorrow… so be warned 😉
OK, as I had some more on the List I finally found Chris Parker @NewHorizonWines The interesting thing about the stand is that great panorama Background Picture… It just looked like a panoramic view of the Vosges Mountains looking from the Kaiserstuhl. I just couldn't find the Haut Koenigsbourg…
The other Twitter Followers, I looked for were Ryan Opaz @ryanopaz , Andre Ribeirinho @andrerib and Dan @bibendumwine but couldn't find them… don't forget, it was still very early.
So back to the Stand. Everything was still very calm, so I took my chance to taste the Jordan Wines. I missed those last year, because they are occupied most of the time. Oh by the way, they own a Restaurant in London now called High Timber. Jordan's wines were great like always and what I liked most is their change of closure to screwcaps 🙂 .
Slowly I did get some customers who tasted my wines. Andrew Taylor from www.taylorsfinewine.co.uk and his friend. (Sorry I forgot to write his name down) He stocks our Pinot Noir and Pinot Gris from Germany.
Then Dr. Paula A. Sindberg @Ultimatewines who tried them and dropped a tweet finding them very nice.
I also had a visit from Paul Dietz, son of the famous Rudi Dietz from Stuyvesant's House in Sydney. Greetings Down Under! Paul will soon be working at Weingut Berhard Huber during the upcoming 2009 Vintage.
And another customer and Twitter Follower of mine: Mark Donovan @RevelstokeWines www.revelstoke.co.uk . He said my pre LIWF Twitter marketing did catch his attention, but how can he find customers through Twitter that will buy my wines. That made me think a little… and now that I had some time to think it over… Why not write a Tweet saying: "Just received some new wine from @Johner the guy who made that hilarious London Wine Fair Music Video".
The main tenor about our wines was, that our German Pinot Noir has a very competitive price compared with Burgundy Pinot Noir. It has good a great body and a complex structure.
In between I went to the Portugal Stand and finally found Ryan, his wife Gabriella and Andre, who was programming a Website for the Presentation. Visited them in the evening when everything calmed down… and who did I see? Denise @thewinesleuth. I do hope she will come and taste my wines tomorrow.
Last but not least my dad sent me on a mission to receive some information about the new champagne closure from Alcan who produces the Stelvin closure… Sorry guys I didn't have enough time to make that Viral Video campaign yet… I'll do it soon 😉
Oh and almost forgot… we won two medals in Decanter…