Bringing  accessible winetasting  judgement  to the average customer is one of the main goals, when communicating to everybody through social media channels.
And as Twitter is one of the greatest possibilities to communicate to a real big crowd …
… so Germany's most popular Social Media Winemaker Dirk Würtz started a new project called Twitter Wine Awards.
And this time the German Wine Institute (DWI) patronages this great event !!!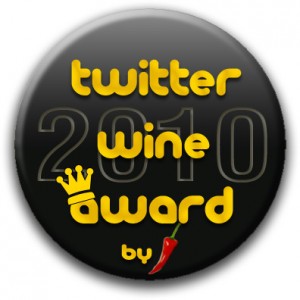 The first tasting in April was held in Fraconia and wines with a pricepoint up to 10 Euros retail price were judged .
The wines were then judged within three categories… not bad – good – yummy!
Now if over 50% of the judges gave the wine a yummy, then the wine received the Twitter Wine Award. Wineries, Importers, Shops then can use the Logo to show their customers the acceptance of the wine to a great crowd.
The next Twitter Wine Awards "Riesling Worldwide" will be held in Willi Mittlers Landhotel "Zum Rebstock" in Clüsserath (Mosel) from 30th July until 1st August.
So if anybody wants to join the tasting crew, just send an email to kontakt@dirk-wuertz.de.
And if someone wants to enter his Riesling with a maximum Retail price of 15 Euros, please also just send an email to kontakt@dirk-wuertz.de.