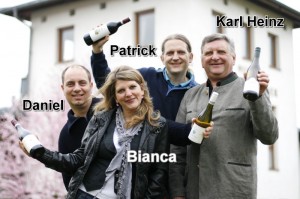 (Please scroll down for english version)
Wie jedes Jahr präsentieren wir unsere Weine am Stand von Stecher & Krahn in Halle 3
Standnummer: H 130
Als besondere Neuerscheinung werden wir einen 2010er Sauvignon Blanc Gladstone "Medium-Dry" zeigen. Sauvignon Blanc, spontan vergoren 9 Monate auf der vollen Hefe und in der Endvergärung hängen geblieben… Diesen Wein muß man unbedingt zu scharfen Gerichten verkosten…
Desweiteren werden wir einen 2009er noble Sauvignon Blanc Dessert Wein zeigen.
Vom 2010er Jahrgang werden wir Tankproben vom Rivaner, Grauer Burgunder, Sauvignon Blanc und Blanc de Pinot Noir präsentieren. Es ist ein besonderer Jahrgang und über das Feedback werden wir extrem gespannt sein.
English Version
Like every year, we will show our wines at the stand of Stecher & Krahn in Hall 3
Stand No. H 130
We would like to introduce two new wines.
2010 Sauvignon Blanc Gladstone "Medium-Dry", a wine fermented on its indigenous yeast for 9 months, and finally stuck at a medium-dry sugar level. A great wine in combination with hot asian food.
and 2009 noble Sauvignon Blanc.
We will also show some tank samples of our 2010 Rivaner, Pinot Gris, Sauvignon Blanc and Blanc de Pinot Noir. It is a very special Vintage and we are very keen on receiving comments.