Wow! Now that is early! In the past 10 years, in which we have been growing and making Pinot Noir in the beautiful Wairarapa Valley, we have never had flowering start so early.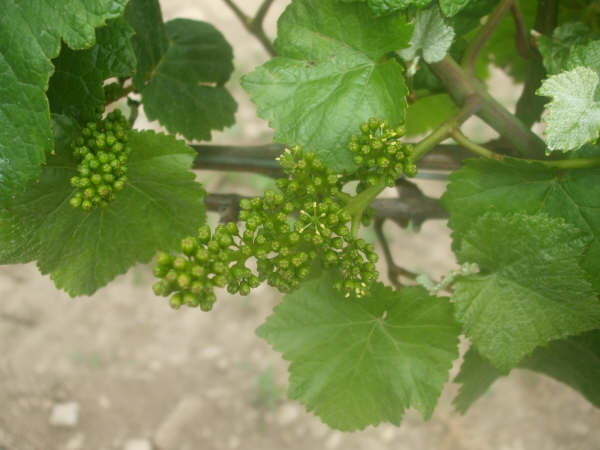 Just amazing: The last frosty cold night when the wind machines were running was Friday 21 Nov 2008 and then two days later on sunday daytime temperatures over 30° C. And yesterday Monday 24 Nov 2008, we received the foto above showing the beginning of flowering in our Pinot Noir.
Are we first? Or have other Pinot Noirs in New Zealand also started with flowering?
It would be great if someone could help me find out!
Erstaunlich! Seit 10 Jahren sind wir nun in Neuseeland, aber die Rebblüte beim Pinot Noir hat noch nie so früh begonnen. Vergangenen Freitag liefen noch die Windmaschinen wegen Frostgefahr. Am Sonntag dann über 30°C im Schatten und gestern am Montag das erste Bild von der Rebblüte. Wenn nun die Vegetation und das Wetter ähnlich wie in den letzten paar Jahren ablaufen wird, dann beginnt die Ernte wohl schon am 15 März 2009.
Und wie sollen wir dann bitteschön unsere Weine auf der Prowein 2009 präsentieren können? Die beginnt ja bes*~%$ spät erst am 29.3.2009!
So ist es nun mal, wenn man etwas produziert, das extrem vom Wetter abhängig ist!