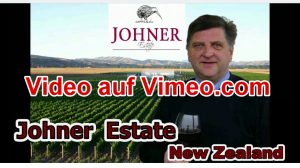 The Harvest 2008 at Johner Estate New Zealand from Patrick Johner on Vimeo.
If you would like to see some Information of the 2009 Harvest please click here…
In the beautiful Wairarapa Valley in New Zealand near Masterton, at the end of East Taratahi Road continuing into Dakins Road, pass the cliffs and the harvest festival showgrounds and finally end up at Johner Estate.
Welcome to Johner Estate.

If you come and visit us and would like a tasting, please toot the horn.
Here you can taste some wonderful wines ranging from Riesling over Sauvignon Blanc to Pinot Noir, but don't forget the noble wines.
Meanwhile, we have 12 hectares of planted vineyards. 8 hectares of Pinot Noir, 3 Hectares of Sauvignon Blanc and one hectare of ten different varieties ranging from Riesling to Syrah.
2008 has been a great year for us, with low yields, beautiful weather an no deseases, we waited for the grapes to reach optimum ripeness. With our strive for great quality, we even pick our Sauvignon Blanc by hand.
Processing our Sauvignon Blanc in our cellar is quite similar to other New Zealand wineries apart from very small scale, we are working at. After a little soak on the skins to leach out more flavour, the grapes are gently pressed in a modern membrane press at a slow speed.
In these temperature controled stainless steel tanks, the wine ferments for a couple of weeks at low temperatures.
Growing grapes in New Zealand is not as easy as we originally thought. There are many hazards. As you can see the windmachines to protect the vines from springtime frosts and then the grey shadow overcasting the vineyards: Bird netting. Without these nets, you would not be able to pick one single berry for your wines.
Pinot Noir was the main reason, why we settled down here in the Wairarapa. The trellising system is lower than in other vineyards, but not as low as in Burgundy. Therefore we have these trolleys to sit on, so the back doesn't ache that much.
Picking Pinot Noir by hand is always fun, if the weather is fine and the berries are sain. As you can see, our helping hands are enjoying themselves.
2008 was a wonderful year for Pinot Noir, with absolutely ripe grapes and no Botrytis, we didn't need to do any sorting out in the vineyard.
The picking bins are then tipped into grey boxes and transported to the winery.
Here we destemm the grapes, and the berries fall down onto the sorting table. Here, we also sort out some green residual stems, stalks or leaves. In other occasions, we have to sort out some Botrytis infected berries, or maybe some underripe and not fully colored berries.
The sorted grapes are then tipped into opur fermentation tanks. For the big tanks we have pneumatic punch-down systems, but on smaller tanks, we do it all manually by hand.
After one week of cold soak, two weeks of main fermentation and one further week of post-fermentation maceration, it is then time to press our Pinot Noir.
With our big forklift of course, we are able to pick up the whole tank, drive over the press and empty the tank into the press.
The only thing, that needs to be done now is to fill the new wine into oak barrels, that are then stored in our barrel shed.
When you go home, don't forget to pass by the picnic area and have a look at the pittoresque setting of the Ruamahanga River. It's awesome.
See you soon at Johner Estate!