For the englisch Version please scroll further down.
Kurz vor der Prowein versandten wir Einladungen per Post und per Email an Alle unsere Wiederverkäufer. Darin rufte ich die Besucher unseres Standes auf, Ihre Probenotizen live per SMS bei Twitter.com im Internet zu publizieren. Als Belohnung haben wir einen Gesamtbetrag von 500 Euro in Form eines Rabatts beim nächsten Einkauf zur Verfügung gestellt. Deshalb meine sehr ausführliche Anleitung "Twitter für Einsteiger" (
Teil 1
,
Teil 2
,
Teil3
) .
Im Vorfeld darauf hatte sich nur
@sebahof
per Twitter angemeldet und mich
@johner
gefollowed.
Bei einem weiteren Aufruf per Email an Alle bei uns gelisteten Wiederverkäufer, erhielt ich dann per Rück-Email doch eine größere Resonanz… Allerdings keine positive.
z.B.
"sorry ist mir viel zu kompliziert…"
über…
"Wir als Kunde sehen diese Computersprache mit Hinsicht auf Ihre Weine nicht sehr positiv.
Denn als Gastronom überlegt man täglich, ob man nicht ein grundsätzliches Handyverbot, bzw mit Einschränkungen von
Handy, Laptops etc einführen sollte, damit die Menschen wieder lernen in Ruhe zu genießen, dem Produkt die nötige Zuwendung zu geben
und vom Alltagsstreß und der ständigen Kommunikation mit Handy etc runterzukommen.
Es gibt immer noch keine schönere Form als mit dem Mensch direkt zu kommunizieren und Meinungen auszutauschen.
Auch das haben wir jahrelang geschätzt, mit den Winzern persönlich zu sprechen und Ihre Weine kennen zu lernen.
Und kennt man den Winzer und seinen Charakter, so kennt man auch seine Weine.
Ihr Vater und Ihre Mutter haben dies excellent beherrscht und nicht nur durch die tolle Qualität, sondern auch durch
die Menschlichkeit, Ihre Weine, zu den Top Weinen gemacht.
Sicherlich sollte man sich nicht der neuen Generation und den neuen Medien verschliesen.
Doch immer wieder hören wir von Gästen, wie wichtig Ihnen wieder die persönliche Ansprache ist,
da man aus gesprochenen Worten immer noch mehr raus hört, wie aus geschriebenen abgehackten unpersönlichen Sätzen. "
bis hin zu
"….vielleicht wäre es ganz nett, uns aus dem Mailverteiler zu streichen!"
Tja, das kommt wohl davon, wenn man wie vor 5 Jahren mit dem Schraubverschluss die Mitmenschen total überfordert.
Umso mehr erfreue ich mich nun die Gewinner zu verkünden…
Es haben sich insgesamt auf der Prowein 3 Besucher gemeldet, die dann Live von der Prowein aus Probenotizen versendet haben…
Zuerst:
Stefan Zierer @sebahof vom Sebastianihof mit diesem Tweet: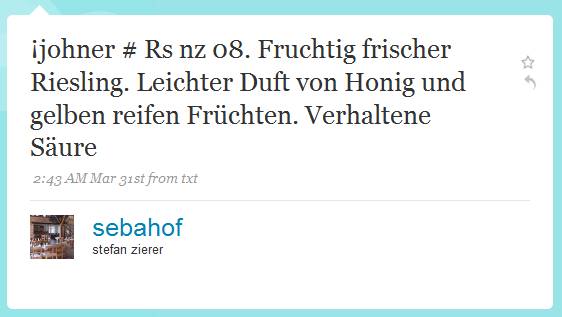 Dann:
Grit Müller @GasthausMueller vom Gasthaus Müller mit diesem Tweet: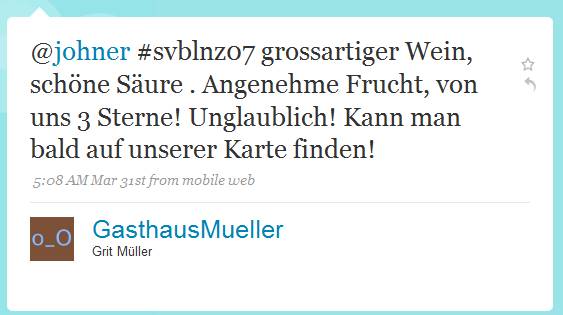 Und zuletzt:
René Blanco @rbm8200 vom Ahlbecker Hof mit diesem tweet::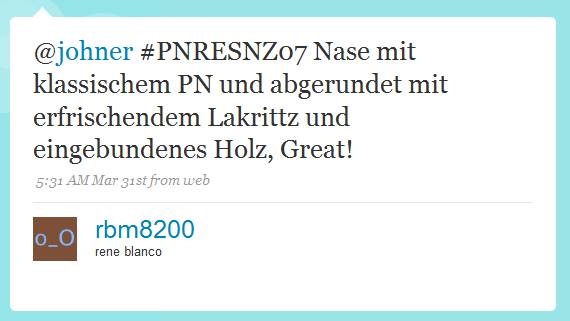 Jeder dieser drei Betriebe dürfen sich beim nächsten Einkauf über einen Nachlass (Rabatt) von 167 Euro freuen.
Viele von Ihnen fragen sich jetzt selbstverständlich, wozu soll diese Prowein-Twitter-Belohnung gut sein?
Ganz einfach. Sehr viele Fachbesucher, bzw. die meisten Fachbesucher machen zu jedem verkostetem Wein eine ausführliche Verkostungsnotiz. Und genau diese Information ist für uns Winzer und dem Verbraucher draussen von sehr großem Wert. Durch Twitter ist man allerdings gezwungen Alles etwas kurz zu fassen… Doch wer schreibt im Restaurant in seiner Weinkarte  einen Roman zu jedem Wein?
Und viele kleine Aussagen von Profis über einen Wein ergibt in der Summe ein wunderbares Objektives Bild zu diesem Wein.
Falls nun eine Wiederholung dieser Prowein-Twitter-Belohnung für 2010 erwünscht sein sollte, dann bitte ich um einen Kommentar.
Shortly before Prowein, I invited my German Trade and Restaurant Customers, to tweet their tasting notes about our wines live from our stand at the Prowein wine fair in Düsseldorf. As a reward, I would give every Customer a reward from a Pot of 500 Euro. As I realised, that only one of my customers started to follow me on twitter, I sent a further email reminding about my reward.
The response from this second email was very frustrating.
ranging from:
"sorry, it's too complicated for me…"
over:
"We as your customer do not see this kind of Computerlanguage combined with your wines in a positiv way. Because as a restaurateur, one thinks every day, if we should prohibit the use of mobile phones and laptops so that guests can enjoy their food in a calm and unhurried environment.
There is no better way than communicating directly face to face and sharing opinion.
For decades, we have appreciated to speak with the Winemakers personally and to learn about his wines.
And if you know the winemaker and his character, you also know his wines.
Your father and your mother talk with great passion, and not only the great Quality, but also their humaneness have made your wines to top wines.
It is true not to close up from the young generation and the new media. But we always hear from guests, how important it is to be approached personally, because one can always hear more out of whole spoken sentances instead of short-cutted stripped written words."
up to:
"… it would be nice, if you could take us out of your mailing list! "
I guess, that's my fault, confrunting my clients too much with this brand new media. It feels just like 5 years ago when we surprised the german Market, when introducing the screwcap on our whole range.
But now I would like to announce the winners…
3 Visitors have published tasting notes of our wines live from the Prowein…
First:
Stefan Zierer @sebahof from Sebastianihof with this tweet: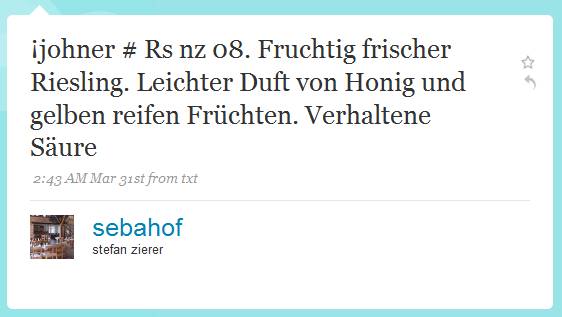 Then:
Grit Müller @GasthausMueller from Gasthaus Müller with this tweet: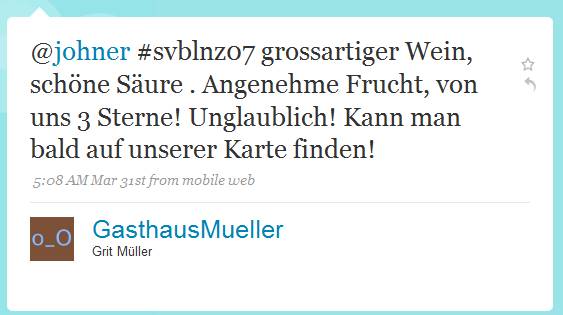 and finally:
René Blanco @rbm8200 from Ahlbecker Hof with this tweet: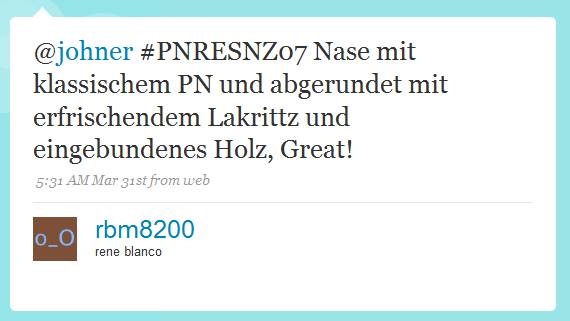 Every one of these Restaurants will receive a discount on their next purchase of 167 Euros.
Many people will ask themselves, why did I do this Prowein – Twitter – Reward?
It's simple. Many professional visitors write down tasting notes. And for us winemakers and consumers these notes as a form of informtion about the wine is very important. With twitter, you are forced to be brief.
And many short notes from professional winetasters provide a complex and wonderful objective Summary of this wine.